About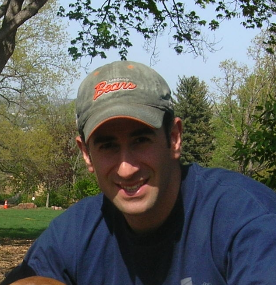 I'm Jason, founder and sole operator of LeavittBrothers.net. I'm an engineer (BS Illinois, MS Texas) turned bar tender/waiter (Joe's Stone Crab, Legal Sea Foods, Nick's Fishmarket and many others) turned trader. Although I've traded stocks, options and futures, I am mostly a stocks trader.
I was born in the Chicago area and have also lived in Texas, NY, Boston, Costa Rica and now the Denver area. Besides the market, my summers are spent hiking, biking, rock climbing, playing baseball and otherwise exploring the Rocky Mountains, and my winters are spent skiing one of the many world class ski resorts here in Colorado.
A few other things about me and this service...
Do I have a brother?
Yes, but he's not involved with the site. Three weeks before our launch in Sept 2002, he took a position on the floor of the CME in the Eurodollar Options pit and hasn't looked back. He traded in the pits for a couple years and then "from screen." Now he's the managing partner of a Chicago-based hedge fund.
Why did I start Leavitt Brothers?
It was a classic "scratch your own itch" situation. Leavitt Brothers is the site I was looking to join but couldn't find. Doing dozens of hours of research every week to find good tradable set ups is absolutely necessary for a beginner, but once you get pretty good and narrow your focus and trading style, cutting back on the all-nighters becomes a top priority. When I reached this point (being profitable but spending way too much time finding trading ideas) I went looking for a couple stock picking services that would offer me good set ups at a reasonable price. I wasn't looking for my hand to be held or a lot of hype - I just wanted a handful of good set ups every week that I'd funnel through my own criteria. But my search turned up empty. I subbed to a few stock picking services and newsletters, but none were very good. With a little entrepreneurial kick I thought: "Hey this might be a business. Certainly there are other traders out there looking for good set ups to play but either don't want to do the research, don't know how or just don't have time, and they'd be willing to pay a small monthly fee to have it done for them." And that was the beginning. It was the site I was looking for but couldn't find.
I don't market Leavitt Brothers, and I certainly don't seek out media opportunities. But the media has managed to find me. Here are a few contributions I've made.
Chat With Traders (http://chatwithtraders.com/)
Podcast (54:06)
Trading Story (http://tradingstory.com/podcast/)
Podcast (46:31)
Benzinga (http://www.benzinga.com/)
Trouble Brewing Under the Hood For The S&P 500? (Oct 16, 2013)
Is Your Quest to Make Money Actually Hurting Your Performance (Oct 11, 2013)
Read The News: All Good Market Trends Come To An End (Oct 4, 2013)
Warren Buffett is Wrong. Not only Should Losing Be Accepted, It's Necessary (Sep 11, 2013)
In Defense of the Fast Food Industry (Aug 30, 2013)
Steve Ballmer Makes For A Convenient Distraction From Microsoft's Real Problem (Aug 27, 2013)
Sectors That Will Struggle in a Higher Interest Rate, Higher Bond Yield Environment (Aug 20, 2013)
Three Developments That Tell Traders To Be Careful (Aug 15, 2013)
Learning To Trade - Step I (May 15, 2013)
AIREX Market (https://airexmarket.com/)
AIRwaves: Portrait of a Trader as a Young Man with Jason Leavitt (13:53)
AIRwaves: Raising Interest Rates with Jason Leavitt (13:32)
AIRwaves: Today's Technical Landscape with Jason Leavitt (9:58)
AIRwaves: Leavitt Brothers with Jason Leavitt (5:01)
Miss Trade (Matt Davio)
Videocast (11:31)
Videocast (52:14)
Trader Planet (http://www.traderplanet.com/)
Guidelines to Successful Trading (webinar) (1:02:06)
Pull Up a Chair to My Trading Desk with Jason Leavitt (webinar) (1:02:16)
Profitable Traders Are Not Consistently Profitable (Nov 6, 2013)
Is Your Quest To Make Money Getting In The Way? (Oct 8, 2013)
Trading: It's OK To Be Emotional (Sep 11, 2013)
Is Steve Ballmer Microsoft's Real Problem? (Aug 27, 2013)
Set Your Trading Goals Correctly (Aug 14, 2013)
Specialists Win, Generalists Lose (Jul 16, 2013)
High Frequency Trading: The Use of Fake Orders (Jun 13, 2013)
High Frequency Trading: Its Role In Flash Crashes (May 16, 2013)
High Frequency Trading: It's Not Why You Lose (Apr 17, 2013)
Don't Blame High Frequency Trading For Your Losers (Mar 19, 2013)
The Dow Theory Is Useless Today: Here's Why $DJIA (Jan 23, 2013)
Traders Exclusive (http://tradersexclusive.com/)
Webinar (Apr 24, 2014)
Webinar (Dec 19, 2012)
Webinar (Oct 12, 2012)
Investimonials
Be Great, Or Get Hit..HARD: Stocks you NEED to pay attention to! (Aug 12, 2015)
How Trading Options Taught Me How To Trade Stocks (part 2) Trade High Quality Stocks (Jun 9, 2015)
How Trading Options Taught Me How To Trade Stocks (Aug 12, 2015)
Swing at Pitches in Your Happy Zone (May 26, 2015)
The Best Advice I've Ever Gotten (Sep 23, 2014)
Seeking Alpha
Using Put/Call Open Interest To Predict The Rest Of The Week (Nov 14, 2012)
Using Put/Call Open Interest To Predict The Rest Of The Week (Oct 16, 2012)
Microsoft Long Call Condor: Profit From Flat Trading (Oct 15, 2012)
Trading Pub
Horrible Trade Confessions - The Worst Trades From the Best Traders
Want to know more? Email me at jason [at] leavittbrothers.com.